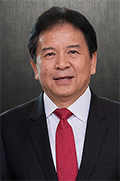 His Excellency Khamphan Anlavan was appointed Ambassador Extraordinary and Plenipotentiary of the Lao People's Democratic Republic to the United States of America by his Excellency President Bounnhang Vorachith in January 2019. He presented his Credentials to the Honorable President Donald Trump on January 2019.
Ambassador Khamphan Anlavan is a career Senior Foreign Service Officer with more than 20 years of experiences in Asia, Europe, and Africa. The new Ambassador was most recently Chief of Cabinet, Committee for External Relations of Laos, where he started his mission in 2018. Prior, he held top-ranking positions at the Ministry of Foreign Affairs of Laos, including Director-General of Party Affairs, then Director-General of Europe and American Department, Committee for External Relations of the Lao PR Party Central Committee. Ambassador Anlavan has also served as a Deputy Director-General at the Department of Asia-Pacific and Africa, MOFA, Lao PDR.
In addition to his Ambassadorship to the U.S., he has been the Ambassador of Laos to Malaysia and Papua New Guinea. He previously served as a Minister Counselor, Deputy Chief of Mission at the Embassy of the Lao PDR in Vietnam.
Ambassador Khamphan Anlavan is married to Mrs. Phongsamouth Anlavan, and has three sons.